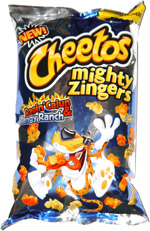 I had been eyeing this double-offering for while with mixed feelings of desire and wise hesitation, like that handsome girl (or guy) you know is totally into you, but which the wisdom-based portion of your brain is telling you will likely bring nothing but trouble.

The desire is there because I like Cheetos and I like getting two flavors in one bag, the prudent hesitation, in this case, being a sister product (Cheetos Sharp Cheddar and Spicy Picante) that proved gravely disappointing if not a total loss.

However, having succumbed to my baser desires (or curiosity, at least, if that doesn't count as one), and brought these giblet-sized corn puffs on a date with my mouth, I feel like I can assure you that while this gal may have few issues just like her sister, she is way cooler and fun to hang out with.
Let's be upfront about the issues though: we are once again talking about Coco pebble-sized Cheetos rather than stick-shaped Cheetos.

While this is designed to enable you biting two of the flavors at once with each bite, the problem is that the smaller Cheeto bits are not as satisfying to eat individually and a pain to have to collect in between your clawed fingers.

My feeling is that a better compromise would have been bits about half the mass of your average Cheeto, which would have made them better for eating individually but still feasible to eat in multiples.

To be fair, some of the Cheeto bits actually are cut at that happy medium, but not enough.
An informative look at what's inside
courtesy of the review by Hot Chicks
Eatin' Spicy Chips, who rather liked
them but note that the Tabasco-sauce
flavoring is rather more evocative of
Buffalo Wings than Cajun cuisine. So
not a bad thing, but not what you may
be expecting.
Overall, though, I did not find this deficiency to be as annoying this time around because the actual flavorings involved were much more satisfying.

The light-gold colored Tangy Ranch bits and the reddish-orange colored Ragin' Cajun pieces are both basically derivative, but still have their subtle differences and work well together.

The Tangy Ranch is basically just like the ranch flavoring on a Dorito, though a bit more sour in taste, and works well on Cheetos even if it's not original.

The Ragin' Cajun bits are basically flavored like spicy Tabasco sauce, and pack a respectable kick.

Any one who's had the red Spicy Cheetos knows roughly what to expect, but these are actually tangy-er and combine pretty well with the ranch flavored ones, even though the spiciness-level is somewhat diluted.
I don't know how I feel about you after
meeting your evil twin who was in favor
of planetary genocide as a means for
furthering the domination of the Empire,
but now that I've had both flavors of
Mighty Zingers I realize that villainy
isn't a genetic trait! Logically.
So all in all, it was fun chowing these down and I'm glad I gave into my unwise temptation, because sometimes it isn't fair to make assumption about a guy or a girl based on that troublesome relative of theirs you already know.

Anyone who likes the idea of Tabasco and ranch flavored Cheetos should give these a try.
Spiciness Level:
Moderate
- Ranch-flavored Cheeto-bits are an interesting remix
- The 'Cajun' Cheetos come off as a tangier variant of Spicy Cheetos, who's awesomeness we should all acknowledge
- The flavors complement each other in a pleasing faction
- The small size of the corn puffs can make for annoyingly complicated eating experience as you try to pinch multiples of them between your fingers.
- Some might wish for something spicier over all