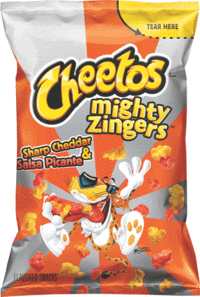 How many times in life do you get excited when you learn that two things you love are going to be combined into an even bigger and better product, only to discover that, like when Aliens are mixed with Predators on the movie screen, the results are in fact vastly inferior to the originals?

Being a big Cheetos fan, I was pleasantly surprised one afternoon when my then-fiancé-now-wife came home with a bag of Salsa & Sharp Cheddar Zingers.

Imagine my horror when I ripped open the bag to discover that the long Cheeto sticks I had sinfully cherished in my earliest years had been replaced by lumpy nuggets slightly larger than a Coco Pebble?

I think the theory is that they wanted the consumer to blend both flavors in one bite, so smaller pieces are offered to force the eater to pick up more than one for each mouth full.

While I appreciate the design logic, it makes them both a pain in the ass to eat (it's like eating cereal with your fingers, something we've all probably done at some point, but are ashamed to admit), and the little pebbles are simply much less satisfying to crunch in your mouth than the classic Cheeto sticks.


Unfortunately, the problems only begin there.

The bag is basically a mixture of red-colored Spicy Cheetos and orange colored Zesty Cheese Cheetos mixed into one, both excellent products on their own but offering little new

in combination.

Eventually I realized that there were perhaps some slight alterations- the Salsa Cheetos I believe have a slightly more tangy flavor, but completely lack the spicy kick of Spicy Cheetos, and are thus definitely inferior.

The Cheesy Cheetos are basically ok by themselves, but are definitely more numerous than the red cheetos in the bag, and kind of swamp what flavor the already lacking salsa Cheetos can muster.
Now, these are still basically Cheetos, when you come down to it, and thus still have a satisfying crunch texture and an overall tasty flavor.

However, I was ready to give this product one star simply for being categorically inferior to the products it was meant to be a spin off of.
While I was begrudgingly munching away one afternoon on this sad experiment in forced co-existance, I realized that I recognized the flavor in my mouth from some where in the back of my head, and then it struck me: the combination of the two flavors did in fact remind me of eating cheesy nachos with salsa at a Tex-Mex restaurant.

Now, by that I mean, nachos swamped with too much cheese and a dab of not-very-spicy-salsa at a thoroughly American-style establishment.

But still, it was an uncanny bit of flavor emulation, and in honor of it and the inherent virtues of its Cheeto-ness, I have settled with giving it 2 stars.

After all, I can look back on those college microwave cheese-and-nacho plates with a certain nostalgic fondness, and for some folks (other than me) it may just not get any better than that.
Pros:
- The concept of mixing two different flavored chips in your mouth is kind of neat.
- They are still basically Cheetos, with all of their attendent tasty qualities.
- Evocative of melted-cheese-and-jarred-salsa on nachos you get at a bar or college coffee house. In other words, nostalgic in a trashy kind of way.
Cons:
- Pebble sized Cheetos are both more annoying and less enjoyable to eat.
- Flavors poorly balanced and insufficiently strong