So every time I go shopping, I'm confronted by a rack full of Monster Munch bags, which honestly are very unfrightening in their little parade of of smiling ghost faces.

However, they do remind me of Pac-Man, and at a loss for more interesting things to buy at that particular store, I resolved to try them out, having been assured they were everybody's favorite child hood snack.

Now having done some research, it turns out Monster Munch is a big deal in the UK, where they are available with distinct monster-bodies and flavors like 'Pickled Onion' and 'Roast Beef.'

The French flavors are more pedestrian, and in appearance more unified; it appears that the brand has been licensed by a French company which proceeded to do whatever the hell they wanted to with them, so I am not really passing judgment on the UK Monster Munch, which appears to be a whole different bag of (rather interesting-sounding) chips.
As this food analyst acidly put it,
"they are clearly ghosts", not monsters
as in the UK. Anyone used to exploring
dungeons understands this means they
are more likely to drive you insane or
possess you, but not as talented at the
whole bite-your-face off routine,
lacking, as they do, physical form.
Now in addition to feeling sheepishly infantile for eating 'Monster Munch', I was a little reluctant to try them based on my last experience with a Lorenz product, which proved to be brittle and rough on the outside and empty on the inside.

Well, true to form, these ectoplasmic chip-cracker-things (they are made 24.5% out of sunflower oil, and 22% out of pureed potato powder, so make of that what you will) aren't so rough on the outside, but they're still empty on the inside.

In texture they are reminiscent of Asian shrimp chips minus the fish flavor, fortunately for me and my anti-piscine ways.

So all in all, these phantoms are acceptable vehicles for flavor delivery, though I still hold the lack of inner substance against these ethereal marauders.
If only they looked like actual
ethereal marauders, everybody's favorite
transdimensional velociraptor that never,
ever wants to close its mouth.
So now that we have established, in the model of a proper college science experiment, the commonalities in texture between the three case samples, we are left to identify in turn the variations in flavoring.

First in order of tasting is Ham and Cheese, which go well together in real life, and should do so as well as in the 'let's pretend' world of flavoring.

The melted-gruyer Croque-monsieur (literally translated: 'man-snack', rrrow!) is the ur-sandwich of the French lunch table, so the folks at Lorenz clearly know what they're doing from the culturally specific marketing angle.
There's something almost American about
the French preference for literally soaking
their ham sandwiches in additional cheese
and cream until it is a sopping wet mess of
hot melted cream and meat. Mmmm,
romantic! No wonder it's called a man snack.
Fortunately, for them, it works pretty decently, with intimations of gruyer cheese contrasting tonally with a saltier 'ham' like accent.

The flavor emulation is far from evocative of the real thing, but you still have a sort pleasant creamy cheese-and-salt flavor rolling around in your mouth after you mash more than a few- and you will probably be tempted to eat more than a few at a time because of the aforementioned lack of density.

Unfortunately, this also means that they can fill a medium sized bag of these up, charge a 'regular' French price for them, and end up receiving only 80 grams of content rather than the more standard 100 or 135 grams.

So all in all, nothing to write home about but nonetheless a passable snack .
What do you get when you take the unremarkable crisps of the Ham'n'Cheese munch and subtract the flavoring for some old fashioned saltiness?

Nothing especially good.

I will grant that 'plain' Monster Munch is all right for some mindless eating, perhaps while drunk on the side of a canal, but it fails to be very compelling because basic unflavored Monster Munch crisps are just not all that good.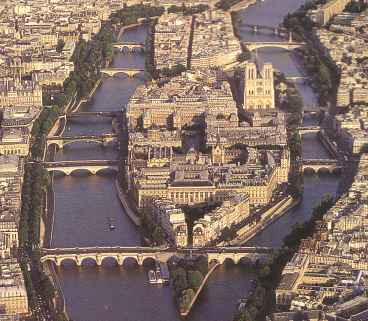 Like the final action scene in a Vin Diesel movie, the location of my last sampling of the French Monster Munch occurred on the docks of the Ile Saint-Louis in the middle of the Sein, where finally the proverbial Monster united with a proper flavor for maximum appeal (did I mention there were motor boats and Germans present?)

Unlike nearly every other barbecue flavoring I've had in France, this one reflects an understanding that barbecue should be sweet as well as salty, a combination which it offers to satisfying effect.

While we aren't talking about a really sophisticated flavoring made with natural herbs and spices, the sweet-and-salty flavor that's there is genuinely enjoyable, hitting the right notes and finally giving the inoffensive crisps something to swagger about.

Typical riverine scene from the Ile-
Saint Louis. Please note that the shark
is mechanical and controlled by Nazis.
Also, a great picnic spot.
So in summary, these obviously are meant to have a sort of unsophisticated appeal, and at that level they are fairly enjoyable as long as you don't ponder the metrics behind the price-for-quantity ratio.

If you like to eat your chips seriously, sitting on a leather chair glass of gin in hand, contemplating the deep dark darkness of the human soul, Monster Munch really won't be deep enough for you.

However, they make fairly compelling eating for those in a sociable (and quite possibly drunk) mood who don't need to pay close attention to the refinement (or lack thereof) of what they are eating.

These munches look exactly like the ghosts from PacMan after eating one of the Power Pellets (did you know that each ghost has a different name and programmed hunting behavior?) and who hasn't wanted to experience that vicarious thrill in real life?

(Ok, don't overwhelm my inbox with responses to that one…)

Monster Munchies: for the kids and the PacMan in all of us.
If you enjoy sitting in your antique leather
armchair, pondering your inevitable descent into
madness and corruption and the crunchiness
of potato chips, too numbed by inner suffering
to pay heed to the fawning attempts of your slave
girls to earn your favor, you may find Monster
Munch too crude for your refined sensibilities.
Then again, you may prefer a diet of
unwilling souls.
Stars:
2 for Ham and Cheese
- Chips for a Ghostbuster!
-
Easy and pleasant to eat when you don't need to pay close attention
- Ham and Cheese: There is a fun salty and creamy vibe with these once you really start crunching them
- Barbecue: pleasantly sweet as well as salty, balancing the flavor well
- The crisps are airy and insubstantial in the middle
- Flavoring is more suggestive than evocative
- Salty:
Don't bother with these unless inebriated