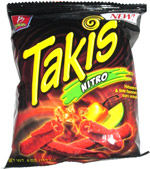 It's my firm belief that anyone biting into the crimson pirouette-cookie look-a-likes known as Takis Nitro will be convinced that their mouth has just been squirted with watermelon bubblegum flavoring.

Or something like it- there's an undeniable and thoroughly bizarre fruit-aroma that falls short of actual sweetness at the first bite that goes way beyond the typical lemon-lime citrus flavor that is implied on the packaging.
A bowl of Takis. Note that
the 'Nitro' variant is actually
a darker crimson in color.
There's no doubt that Takis Nitro is a very extreme and colorful product, but I've actually run into a similar concept in France- basically tortilla chips rolled up like scrolls into tubes resembling pirouette cookies or penne pasta.

These actually convey the seasoning effectively and crunch in a most satisfying fashion, and I hope that the idea catches on in the United States.

The Takis Nitro variety are also undeniably beautiful, each three-inch corn chip roll thickly covered in eye-pleasing dark crimson seasoning.

They couldn't have looked better if they'd been painted.
The brilliant colors of the Takis rolls promise the extreme flavor and flaming hot appeal of a red race car or shiny-latex seductress, and the Nitro Takis deliver exactly that: extreme sourness and extreme spiciness, served alongside the completely incongruous and altogether strange fruit flavor.

The snacks will reliably set your mouth aflame like a control panel on the starship Enterprise and expel the snot from your sinuses if you eat more than a few at a time; I mean that in a good way, but don't say I didn't warn you.

They are also more sour than a sour patch kid and leave you feeling like you bit into a lime.
The warp drives and phasers are awesome, but
the arcane science behind seat belts appears to
have been lost in Star Trek, and the computer
screens seem to be based on Soviet TV sets.
And yet, despite being an aficionado of the spicy and the sour, these crisps don't quite succeed in pleasing.

The weird fruit-aroma is part of the problem, I think, as it creates an expectation of sweetness that the seasoning doesn't actually deliver.

Chips and salsa/guacamole complement each other well because the saltiness of the chip is combined with the sweetness or sourness of the salsa, but here that sweetness or saltiness is lacking, and the tongue is kind of left hanging limply, though no doubt in part from the beating it just received from the scary habanaro seasoning.

Alas, Sour and Spicy without either Sweet or Salty does not a complete flavor make (for me.)
Imagine these, spread out on a chip
without the sugar, and you will know
the flavor of Takis Nitro.
There's no denying that Barcel concocted a ridiculously over-the-top product with their Takis Nitro, with its uncanny fruit aroma and mouth-scorching habanero and lime flavor.

Unfortunately, I can't say I quite enjoyed it; nevertheless, the experience is strange enough that I found myself frequently curious to try a few more in a fruitless effort to grok its sheer gonzoness.

Anyone who appreciates the super spicy or the grotesquely weird should give these a try- you may or may not love them, but you probably won't forget that they tasted like a spicy watermelons, without the sugar.
Note:
These chips are available in Mexico and the United States
Spiciness Rating:
Flaming Hot
- Ultra hot and super sour
- No lack of crimson-colored flavoring
- Wrapped nacho scrolls are extra crunchy and beautifully coated with spices
- The lack of sugar or salt to tie together the sour and spicy makes these chips feel incomplete
- The sour and spice are too intense for the comfort of many (most?) palettes