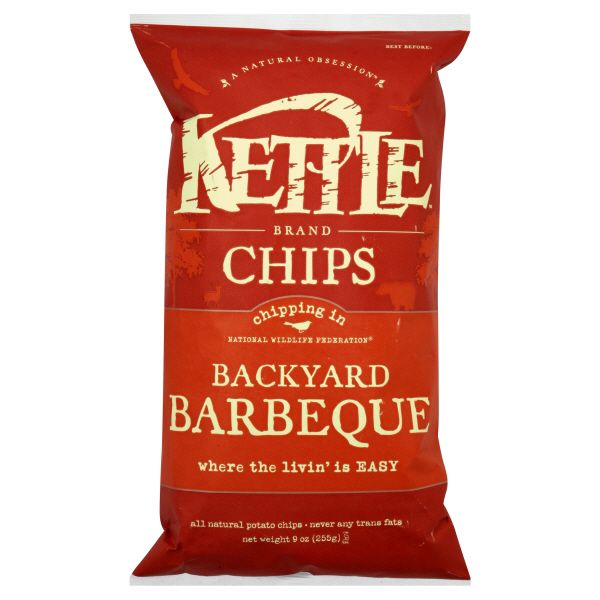 One thing you can always say for Kettle Brand chips is that they have consistently superior texture.

They are thick, they are crunchy, and they come in so many shapes.

I feel primitive childish thrill coarse through me every time I pick up a chip that was fried wrapped in over itself, or even better, folded over twice- and with Kettle chips, there are always a lot of these.

The texture on even the flattest of Kettle chips is complicated, full of crispy air bubbles and a topography fit to make a geographer sing with glee.

So it proves to be the case with the Kettle Chips 'Backyard Barbecue' variety.
Unfortunately, Kettle chips have often also demonstrated problems sprinkling adequate flavoring on their crisps, at least to my flavoring-biased standards, and so the flavoring on the Backyard Barbecue chips does not succeed in predominating over the flavors of salt, oil, and fried potato.

It is definitely there, is in fact a blend of several quite pleasing elements of mild hickory, garlic, sugar, and pepper, and beautifully visible on the chips, but somehow it always leaves me wanting much more.

I chewed through nearly half a bag expecting the flavoring to announce itself in its fully glory, but to not avail.
The list on the back assures us that all the ingredients are natural, and so perhaps I

should cut the Kettle brand some slack because they are not benefitting from the chemistry lab undoubtedly tweaking the flavors in mainstream chip factories.

Towards the bottom of the bag, I did find that the quantity of flavoring (and my satisfaction with chips) did in increase, but still not quite to the level I would have preferred, and the fact there was a notable differential between the chips on the top and bottom cannot be counted in its favor per se.

In all, the barbecue flavoring is promising but ultimately a little unsatisfying.
Now I have feeling this review may ruffle some feathers. If I get beaten up on the street tomorrow by masked men, or find a ripped up bag of cheetos with a feline head inside in my bed tomorrow, I will immediately know why. Kettle Chips have their fans, not the least the editors at Slashedfoods
who nominated it the best overall BBQ chip.
Well, with full respect to the honored role played by Kettle chips in the snack-food community, they can do better. They might claim the spices were "Not too much and not too little", but I must resound a solid, contrarian "TOO LITTLE!"
This approach to project design has long
been recognized and practiced at the
highest levels of business and government.
Like a prized student turning in a project demonstrating their usual high degrees of polish and quality production values, but which nonetheless proved stupefyingly unoriginal, Kettle's Backyard Barbecue chips are a high quality product by virtue of their texture and the way they were cooked, but fail to deliver in terms of pizzaz or creativity.

Though the flavoring is not a total loss by any means, there are definitely better kettle-cooked barbecue chips out there unless you are minimalist when it comes to flavoring.
Spiciness Rating:
Very Mild
-
Super high quality crunchy crisps with intrirguing texture
- Flavoring is natural and includes a pleasant diversity of classic barbecue elements
-Will please the flavoring minimalists that prefer to taste the potato over the spices
-
Flavoring is too weak, hinting at great things that never come to full fruition
- Did I mention the flavoring isn't strong enough?